21.11.2020 — 20:00
● PROJECTION AU 18 SCREENING AT LE 18 ●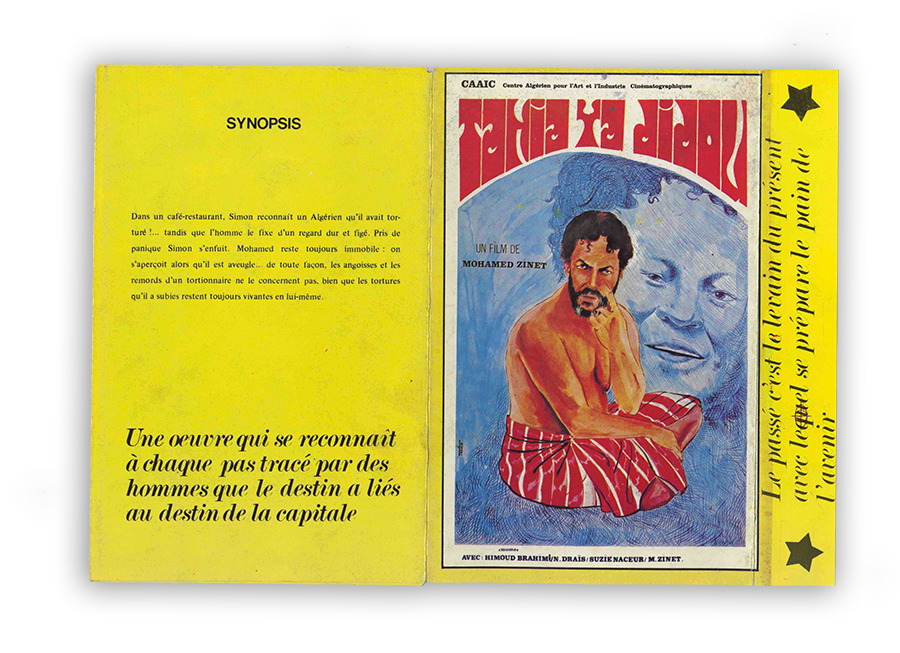 Brochure du film Tahia Ya Didou, imprimé par Révolution Africaine, 1970, Archives de la Cinémathèque Algérienne

Tahia ya didou

DE/BY MOHAMED ZINET, Algérie, 1971, 81 min Version restaurée / Restored version

À la fois poème pour Alger et ses habitants, comédie burlesque et réminiscence des souffrances de la guerre, Tahia ya didou est un film inclassable, à l'image de son réalisateur Mohamed Zinet (1939-1995) dont ce fut l'unique film. Rejeté par les autorités qui avaient commandé à Zinet un documentaire touristique sur Alger, il est devenu culte notamment grâce à la Cinémathèque d'Alger et son directeur Boudjemaa Karèche qui le programmait régulièrement.

Both a poem for Algiers and its inhabitants, a bur- lesque comedy, and a recollection of the sufferings of the war, Tahia ya didou, a sole oeuvre made by Mohamed Zinet (1939-1995), is an unclassifiable movie, as uncategorizable as its author. Rejected by the authorities that had originally commissioned Zinet to produce a tourist documentary on Algiers, Tahia ya didou has become a cult icon thanks to the Cinémathèque d'Alger, and its director Boudjemaa Karèche, which programmed it regularly.
À VENIR/UPCOMING: 21.11.2020 — 20:00

---

Copyright © 2020 / Léa Morin — CINIMA3 / Talitha